This article will walk you through the steps of how to adjust a charge from the guest folio.
Step 1: Log into myfrontdesk by Cloudbeds
Step 2: Go to "Reservations Tab" and click on the reservations that you want to access
Step 3: Click "Folio" to access the guest folio section within reservations
1) Select "ADJUST CHARGE"
2) Once Adjust Charge is selected another box will appear to post payment
Enter the amount to be adjusted off guest folio

Use the drop down box to allocate where the charge is going to be adjusted to.

Use the drop down box to charge the appropriate guest room. (This is useful when guest has multiple rooms).

The Date will automatically populate to Today's date

Notes - place payment notes in this section (Note: it will appear on guest folio)

Click Continue to post payment and proceed to next step
3) All posting will then be listed at the bottom of the screen showing all transactions in chronological order starting with the most recent activity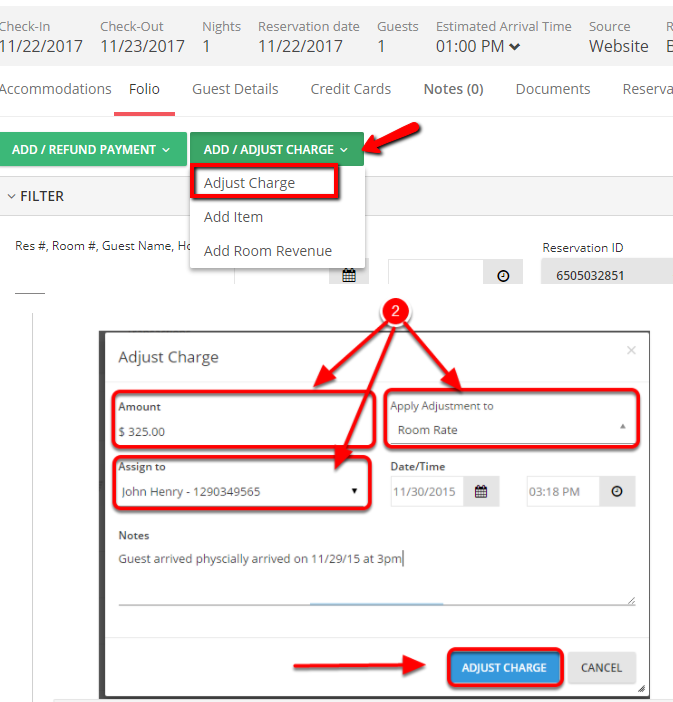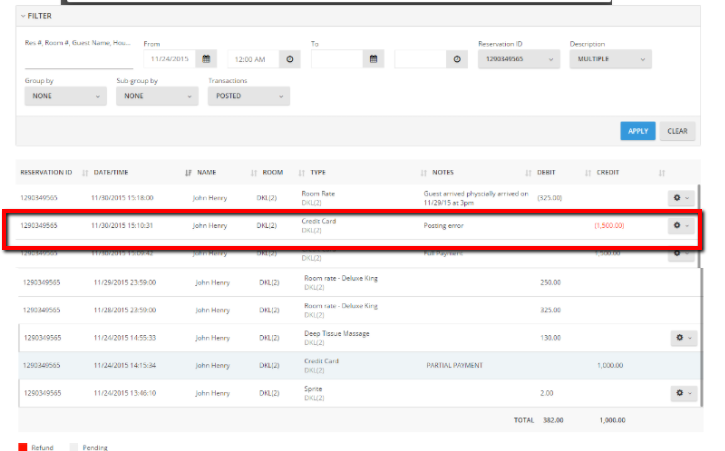 Step 4: Filter Option
1) Reservation ID - If there are multiple accommodations under one booking using the drop down box will let you select individual rooms to view
2) Description - In this section, you can select what type of transactions you want to specifically show on the guest folio
Examples: Room and Tax only ( In the debits section, you would deselect all debits and click only Room Rate and Taxes box) If you want to show credits made to that account, you can leave all check marks in the credits section.
3) Group By and Sub-Group By: This option lets you group the Date, Room Number Guest Name, Reservation Number, or Description of transaction
4) Adjustments - This option is defaulted to show all three transactions. This includes Adjustments, Voids, and Refunds
5) Transactions:  This option gives the users the ability to see all posted transactions as well as pending transactions (i.e. room rates)
6) APPLY : Once you have the filters selected, select apply and it will generate the information below. (Pending transactions will appear with a light gray shade to let user know that those are pending charges and have not been posted yet to guest folio.
7) Guest Folio - To print or email guest folio, please use the two icons that are located at the top of the folio screen.
Special Note: Multiple reservations - Currently all room accommodations booked under one main reservations will not have the availability to separate each guest folio at this time. We are working diligently to have this feature available to all our clients.