The Facebook pixel can be used for three main functions:
1. Building Custom Audiences from your website for remarketing
2. Optimizing ads for conversions
3. Tracking conversions and attributing them back to your ads.
This article will walk you through the basics of adding a Facebook Pixel ID to your mybookings page. To learn about how to setup and use Facebook Pixel tracking, please consult the following resources:
1. Make sure you already have a Facebook ad account and have created a pixel
2. Enter your Facebook Pixels tracking code on your website
Copy the tracking code and paste it into the HTML of your web page just before the closing head tag.
Your web designer will be able to help you with this step. Facebook provides plenty of instructions and tutorials as well.
3. Enter your Facebook Pixels tracking ID on myfrontdesk
Once you have installed your pixel, login to Facebook's ad manager and visit the Facebook Pixel tab. Click Actions > View Pixel Code to find your Pixel ID. It should be a numeric code, for example: 0123456789012.
Log in to myfrontdesk and go to Manage > Analytics to paste the Tracking ID.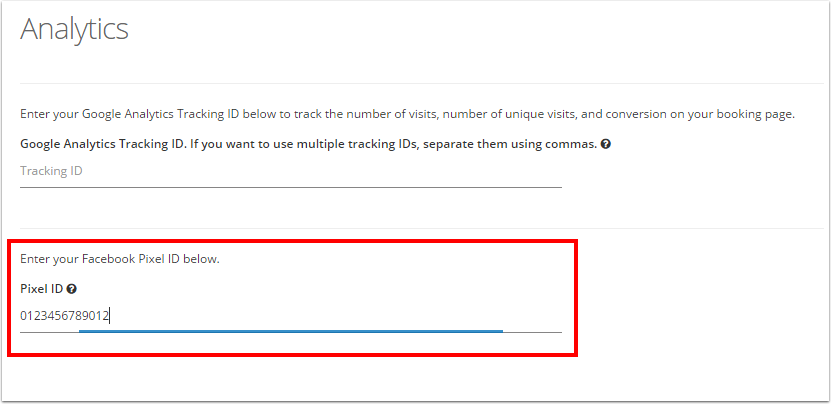 4. How do I confirm that my Facebook pixel is working?
From facebook's help desk: 
After you've installed the Facebook pixel on your website, navigate to a web page the pixel was placed on. If it's working, the pixel will send information back to Facebook and you'll be able to see activity in the Facebook Pixel page in your Ads Manager. Your pixel's status will also be set to Active.
The full instructions for how to test that the Facebook pixel is working can be found by clicking here.