Booking.com has a very specific activation process that must be followed exactly. This article includes in-depth directions for connecting Booking.com and myfrontdesk. 
Do not perform these instructions until you are at the end of the distribution setup stage and ready to go live. 
Highlights
All of your rates, rooms, blocks, allotments and reservations must be setup in myfrontdesk and your distribution section must be activated before requesting to connect to myallcator. 
Myfrontdesk cannot import past reservations from before Booking.com was connected as a distribution channel. These must be added manually as "third-party" reservations.
If you have problems with this process, please contact your booking.com account manager for assistance, as we are unable to initiate this process for you (it's a security measure with booking.com). 
Manual entries will no longer be possible on Booking.com's extranet. Rates & Availability grids will only be visible for monitoring and accuracy checks.
Reservations, Modifications, and Cancellations will be imported through myallocator into your myfrontdesk account. However, it is the responsibility of the property to always keep track of the Booking.com extranet to monitor the status of each booking generated online.
Booking.com Connection Activation Steps
If you do not have an account yet with booking.com, click the link below to setup your property with them first. It may take up to a few weeks for Booking.com to approve and list your property on their site.
https://join.booking.com/
Step 1: Login to booking.com
The first step is to login to your booking.com extranet. This is because booking.com requires the connection process to start on their side.
Enter your property username
Enter your property password
If you have forgotten your booking.com extranet login, please contact booking.com customer support directly.
Step 2. Locate the Channel Manager link on your extranet
There are three versions of the booking.com Extranet
Depending on the version of Extranet you have, you may or may not have the Channel Manager option.  Read below for full instructions.
Classic Extranet
This extranet is the standard version that booking.com typically provides. If your extranet looks like this, click:
Property Info
Channel Manager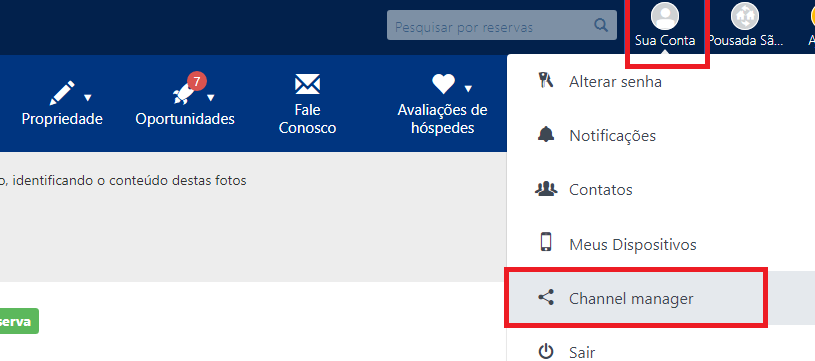 Plus Extranet
With this version of booking.com's extranet, the menus and layout are different from the Classic Version.
If you have this version of the extranet, the steps to connect are the same but the layout will appear slightly different:
Home
Property Details
Channel Manager
Light Extranet
Many features are not available in this version of the extranet, including the Channel Manager link.
If you have this version, and the Channel Manager link is not available, STOP. You mustupgrade your booking.com extranet version. Here's how:  
Send an email to your Booking.com Account Manager
Ask him/her to upgrade your Extranet version to the Classic version that includes channel management
Once your extranet has been upgraded, continue with the steps below.
Step 4. Select myallocator as your channel manager
Once you click "Channel Manager" the next step is to select myallocator, myfrontdesk's channel manager, as your channel manager provider.
Once the request has been submitted, you will need to follow the below steps to ensure the connection is correctly enabled.
Click Start
Click the Start button
The provider you need to activate is myallocator (ID 313)
Select Full connection (two-way)
Step 5. Accept the Agreement
To complete the connection request, accept and agree to the Terms and Conditions by clicking on Accept. You should receive the contract by email.
Step 6. Provider confirmation
Once you've submitted the connection request, you should receive a notification email along with the contract XML Signup Agreement with Booking.pdf.
Our support team receives an email notification with your data and will send you a confirmation email once all the settings have been completed. After that, you will receive an email like the one below:
You can check the status of the request from your Booking.com extranet under the Channel manager link at any time.
Step 8. Confirm the Connection
Once the connection request has been confirmed from the myallocator side, you should receive an email asking you to complete the activation.
Click the link in the email to confirm the connection.
2. Click on 'I confirm the connection with myallocator'. The connection will be enabled.
Step 9. The connection is active
The connection is now live! You should make sure to send a full refresh of rates & availability from inside of myfrontdesk's distribution settings to ensure your property is available for sale.
Step 10. Finish the setup process inside of myfrontdesk
Once the connection is complete, all updates of Rates, Availabilities and Restrictions need to be sent to Booking.com exclusively through myfrontdesk.
Manual entries will no longer be possible on Booking.com's extranet. Rates & Availability grids will only be visible for monitoring and conformity checks.